The Plot
So this film isn't your average santa-filled christmas miracle sort of film, but it is set around christmas time. It starts off with the failing relationship, a slamming door and an angry google search looking for a winter vacation from the successful businesswoman Amanda Woods (Cameron Diaz). She comes across a home exchange website and sees this beautiful idyllic cottage belonging to Iris Simpkins (Kate Winslet)... who just so happens to be having her own failing relationship crisis. Perfect. The two decide to swap houses - and lives - for two weeks. They meet each others friends and families and they both become very comfortable where they are.
I don't want to ruin it for anyone who hasn't watched it, but lets just say there are little red herrings and twists and turns in the storyline, but it really is a lovely film to snuggle up on the sofa and watch... and lets be honest, Jude Law. No more words are needed. Jack Black is in it too, and this film is NOT a comedy... that is intriguing on its own!
The Best Bits
**Beware,
ONE hidden text
spoiler**
- Jude Law.
- Drunken Cameron Diaz throwing some shapes to Mr. Brightside by The Killers. It's my youth.
- Heartwarming moments involving the elderly, and how us Brits are real softies for helping them.
- The absolutely gorgeous Rosehill Cottage. It is my dream!
- Jude Law being Mr. Napkinhead,
and consequently, the best dad ever
.
- Jack Black just being Jack Black.
- Did I mention Rosehill Cottage?
Festive Rating
I'd give this film a solid 5 out of 10 Santa Clause hats. Because it's not really that festive, it's just an absolutely lovely and cosy film.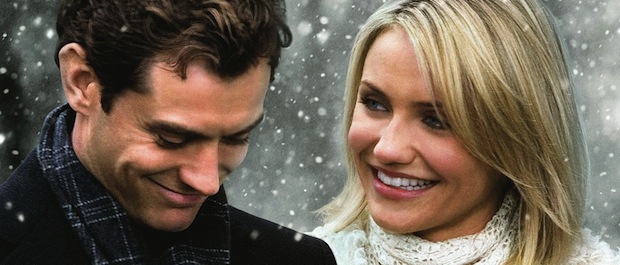 Amanda and Graham... oh Cameron Diaz, how lucky you are to be millimetres from his beautiful face.
Iris and Myles. It blows my mind that Jack Black isn't super goofy in this! But he does play the Star Wars Theme on piano, just to bring you back down to earth...
Rosehill Cottage... aka... the absolute perfect dream house.
Sophie, Graham, Amanda and Olivia tucked up in their den. 'The Three Musketeers'!