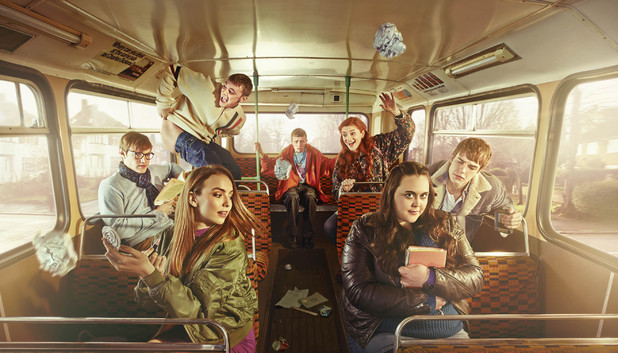 via DigitalSpy

Today, I wanted to talk about a TV show I've been absolutely loving recently. And for those who haven't seen it, or maybe have heard of it but haven't ever watched it, it is in fact My Mad Fat Diary.

There's currently 2 series of MMFD available to watch (So if you can in your country, click here to take you to 4oD - Channel 4 On Demand). I have to admit, at first I thought 'What on earth is going on?' but the whole story is something quite touching, and you can't help but get involved. The show is set in the 1990s England - which growing up in myself, I enjoyed seeing the fashion, the lack of technology - and even surprised to see a cheeky high-heeled shoe phone... which I ALWAYS wanted!

The story is of 16-year-old Rae Earl, who has a history of self-harm and was in fact taken into hospital for treatment. She leads this second life to her new friends outside of the hospital, and tries so hard to keep it a secret, in fear of having no friends and being dubbed 'That mad fat girl.' She continues to go to her therapy sessions with father-like-figure Kester, and still manages to go to the pub and hope that Chop can get her a pint of snakebite! MMFD shows both her home life, her social life, and portrays the struggles that every teenage girl has... but unfortunately from the outside, it only seems to be Rae that has the struggle. Her perfect best friend Chloe seems to be perfectly fine. And the same for her other friends. It makes you think, really, that everybody has issues and struggles. Which later, you realise that too.

So the second series is a continuation - the end of Summer, and the start of college. A time that I was anxious about myself! Rae has her trusty gang, and even an absolute dish for a boyfriend. But you see as the series goes on that everything just feels too good to be true for her. I really don't want to tell you guys too much, because I would love it if you went to check it out! A highly addictive series, tackling teenage issues such as puberty, body image, sexuality, social anxiety, drugs and alcohol... and more than what meets the eye.

I've felt like so much of this is relatable to me, and I know it's silly to say, but this show has actually made me feel better about myself as a person. It's given me the opportunity to look at myself from an outsider's perspective, and that in fact, I shouldn't be so anxious about things that only I think about... because nobody else is thinking it. To quote, "Everyone has their issues and struggles, but they just don't know about it yet."

The series is based on a set of books by Rae Earl (The real Rae!), so you can check them out here on Amazon. I really urge you to get yourself a brew, a few biscuits and try and watch a few episodes! It's the only thing, bar Coronation Street, that I wait to come up online so I can watch it! (And if it's a contender for Corrie, you know it's got it going on.)

Anyway, I hope this wasn't too huge of a read, and if you do check it out, or if you love MMFD as much as me - let me know in the comments! Who's your fave? What's the most relatable issue that was addressed for you?